A year ago, through a nomination process, we invited artists to submit two-page solution-proposals, ideas small or large, fanciful or real, in the following areas: the New City, the New Politics, the New Body, the New Mind, and the New World.
In our first year, we incubated eight boundary-pushing artist collaborations. We paired artists with pragmatic problem-solvers: scientists, engineers, ethicists, culture bearers, and technologists. We helped guide their ideas toward progressive stages of realization. Each artist received seed monies to help take their inspiration to the next level.
Projects were as varied as a technique for freeing artificial intelligence from racial bias; quadratic voting based on "ethical imagination;" the dining experience of the future. They were as original as a video game teaching science through hip-hop; as hopeful as a colony of seagrass to restore New York waterways; as ambitious as an app to easily catalogue all artworks throughout the world; as visionary as an initiative to protect the Rights of Nature within cities; as far-reaching as a process to chart non-verbal modes of communication between groups.
As a cultural incubator and learning organization, 2020Visions supports innovation and collaboration across sectors. Our goal is to remain nimble, anarchistic, and experimental. We are vested in leveraging human creativity by developing sustainable practices.
As we went, we refined our efforts to help develop projects. Collaborative teams presented in-process work to "salons" of invited audiences. They met with us for guidance twice monthly. Now we are preparing for Stage 2—the accelerator phase—of collaborations. This has been a year of true growth.
Below, we invite you to read about the artists' projects—offering exciting possibilities to advance culture! And you will be able to experience these projects directly from the artists at our upcoming conference: The New City: Navigating the Future, a How-To (December 3rd-5th)—in partnership with Union Theological Seminary. Stay tuned!
Lastly, I'd like to wholeheartedly express my gratitude to the artists, their collaborators, and the 2020Visions team for their efforts to make this world a better place for all.
– Yona Backer, Executive Director, 2020Visions
---
Meet the Projects:
Droppin' Science
Bayeté Ross Smith (Artist); Latoya Peterson (Collaborator), Director for the Culture, Glow Up Games
A game that combines the improvisational creativity of hip-hop with actual science lessons, Droppin' Science creates an engaging, brain-expanding experience—and introduces players to real-life Black, Indigenous, and People of Color (BIPOC) scientists.
Droppin' Science is an immersive gaming experience that utilizes the storytelling power of hip-hop and the interactive engagement of gameplay to teach real-life science lessons in a way that sticks. In the game, players create their own avatar emcee, then participate (as individuals or in crews) in real-time hip-hop freestyle rapping competitions with other emcees from around the world. As players "level up" in skill, they are able to outfit their avatar with different clothing, features, and visual elements. Additionally, global hip-hop music composers will be able to submit instrumentals and beats for the emcees to rap over during gameplay. In between the competitions (or cyphers, as they are known in hip-hop), players will encounter "hip-hop scientists"—avatars of actual scientists who are Black, Indigenous, and People of Color and who actively participate in hip-hop culture themselves. Introduced by short cinematic sequences, the scientists function as guides, teaching players short lessons in their area of specialization—for example, aerospace engineering or atmospheric science. The lessons will contain elements that players can then use in the cyphers to score large amounts of points at one time. The overarching purpose of the game is not only to make science lessons more "sticky," but to develop a community around music creation and to counter racial and cultural biases by introducing players to BIPOC scientists.
---
NATURESHIP: A New Municipality and A New Human Condition
Nicole Mackinlay Hahn (Artist); Grant Wilson (Collaborator), Executive Director & Directing Attorney, Earth Law Center; Local Native Knowledge Keepers and the Harlem Community (Stewards and Collaborators)
Combining technology with ecology, Mackinlay Hahn imagines a new kind of resilience in which nature and humans, in ecosystems as local and small as a rooftop or a balcony garden, can learn to evolve together.
In "NATURESHIP: A New Municipality and a New Human Condition," Nicole Mackinlay Hahn explores extending the Rights of Nature (a concept, since 1972, bestowing "environmental personhood" on watersheds, rivers, and mountain ranges) to urban microhabitats. From backyards and stoops to balconies, rooftops, and flowerbeds (and notably in her own Harlem neighborhood), these microhabitats would be legally grouped together to form a new municipality—a novel self-governing entity.
Nature, holds Mackinlay Hahn, requires its own municipality, a Declaration of Natureship, and a fellowship of self-governance that incorporates an indigenous understanding of nature and ecosystem literacy. NATURESHIP creates a resilience where nature and humans evolve together, not separately. This project also aims to explore who we are as individuals and communities facing the challenges that climate change, overdevelopment, and loss of space bring. Beyond conservation, this is a new kind of community movement, creating paradigms for Western culture in which nature and humans can co-evolve.
Citizenship + Allyship + Fellowship + Governorship = NATURESHIP.
---
Synch.Live
Hillary Leone (Artist); Daniel Bor (Collaborator), Cognitive Neuroscientist, University of Cambridge, UK; Dagmar Divjak (Collaborator), Cognitive Linguist, University of Birmingham, UK
Synch.Live take inspiration from self-organizing systems found in nature—like flocks of birds or swarms of ants—to create a series of game-like events in which people learn to work together to solve a group challenge without using words.
Synch.Live is conceived as a series of live events in which human players work together to solve a group challenge, without using words.
Conceived during and for this time of isolation and division, Synch.Live is a series of game-like events in which human players work together to solve a group challenge without using words. Synch.Live takes inspiration from emergent systems in nature—flocks of birds or swarms of ants—in which novel patterns emerge from a collective effort. In these self-organizing systems, no single agent can do alone what the group can do together. Using simple rules and nonverbal cues, Synch.Live sets into play the possibility of emergence (that is, where behaviors materialize when parts interact in a wider whole) and collective reward. In mobilizing our instinct to connect, Synch invites us to feel part of a greater whole, to pry open our limiting beliefs, and to experience the exhilaration of human connection for a glorious, transformative moment.
In the next phase of development, Leone will work with a team of U.K.–based neuroscientists, mathematicians, and technologists to develop and test the software and hardware that will work behind the scenes to support the game experience. The team will then design the player experience and run multiple pilots to learn, iterate, and refine. Although still in the early stages of imagining, Synch.Live team members feel optimistic players will be able to figure out—without using words—how to "act" as a group and create something new together. In this way, Synch.Live can show us that the whole is greater than the sum of its parts, that we have what it takes to cooperate, and that we need one another.
---
Working Titles For A New Futurist Cookbook
Allan Wexler (Artist); Joey Rubin (Collaborator), Owner, Gold Land BBQ; Co-Founder, Parade Agency
A visual feast of drawings, multimedia objects, images, and installations paired with recipes that provoke the reader to reevaluate the habitual ways we use and source food.
Allan Wexler, Coffee Colored Coffee Cups, 2020. In his 1932 Futurist Cookbook, F.T. Marinetti, founder of the artistic philosophy known as Futurism, created a manifesto-as-culinary-innovation that examines and proposes "recipes" that make little sense but challenge sensory experiences of eating. In response to Marinetti's work, artist Allan Wexler, in collaboration with restaurateur Joey Rubin, is developing Working Titles For A New Futurist Cookbook.
Working Titles For A New Futurist Cookbook will be of interest to anyone who eats. Visual, informative, and absurd, the project proposes a reimagined Futurist Cookbook for our new century. If as the Futurists say, people "think, dream, and act according to what they eat and drink," then the objective of this cookbook is to stimulate the reader to reevaluate habitual ways we use and source food.
This project juxtaposes images of Wexler's artworks with selected or commissioned "recipes." His drawings, multimedia objects, images, and installations, on two-page spreads, investigate eating, sitting, dining, and socializing, transforming everyday activities into ritual and theater. Like a wine pairing during a fine meal, the two enhance and speak to each other, provocative and revolutionary in overturning set patterns and rituals.
---
Seagrass: Revitalizing Our Waterways
Kayla Weisdorf (Artist); Willis Elkins (Collaborator), Executive Director, Newtown Creek Alliance
Artist Kayla Weisdorf engages in a yearlong project to grow eelgrass in the Newtown Creek Alliance's Living Docks.
Weisdorf's sister, Lisa, scooping up eelgrass as a part of seed-collection efforts for the largest seagrass restoration project in the world, off the coast of Virginia last June.
Undulating just a few feet beneath the surface of the ocean, right at our toe tips, is seagrass—a flowering marine plant and a natural solution to environmental problems of our own creation. Seagrass's ability to capture and store carbon provides benefits beyond combating climate change, such as protecting against storm surges and providing a habitat for aquatic species. And it does this without any need for extraction of compounds or further manipulation.
Born of a desire to propagate and plant seagrass in New York City's urban waterways, this project combines fieldwork, simple landscape design, and video documentation. It strives to create positive feedback loops between humans and subaquatic vegetation, opening up deep, haptic connections between New Yorkers and the estuary that surrounds us. In so doing, seagrass becomes a touchstone through which to probe and redirect humanity's often violent relationship with (non-human) nature.
In advance of the fast-approaching seagrass "off-season" (approximately November through April in the northeastern U.S.), Weisdorf and collaborator Willis Elkins are planting eelgrass (Zostera marina) in the Newtown Creek Alliance's Living Docks in order to see how it responds to growing on an artificial base in adverse conditions. They will use the off-season to edit video footage, plan for larger collection and planting efforts in the spring and fall of next year, generate prototypes of park designs, and create tactile experiences for positive feedback loop mechanisms between humans and aquatic species.
---
Binary Calculations Can Not Assess Us
Stephanie Dinkins (Artist); Surya Mattu (Collaborator), Artist, Engineer, and Investigative Data Journalist
Using the growing reach and influence of algorithmic systems, Binary Calculations Cannot Assess Us explores what care and governance of the people, by the people, and for the people can look like in an A.I.-mediated world.
Stephanie Dinkins, The Inadequacy of Language Black Brown and Green, 2020.
Artist Stephanie Dinkins and collaborator Surya Mattu examine inherent biases in artificial intelligence. They aim to create interventions that challenge existing power structures and offer different models for building civic infrastructure. This project is a first step toward making resources that allow for care, meaningful engagement, and that redefine the dynamic between people and power.
Widely deployed technology can support bottom-up decision-making and empower the public to directly engage with the systems that govern and theoretically support them.
---
Datalogue Raisonné™
Dena Muller (Conceptual Designer); John Lee (Collaborator), Filmmaker, Writer and Hacker
A lifetime of artwork lost—or collected, permanently stored, and saved. Datalogue Raisonné is a cloud-based inventory tool that potentially can record information about any artwork anywhere in the world into a permanent digital record, correlating and siting that information with the work's original provenance data.
Demo of an image recognition app, an original component of Datalogue Raisonné, designed by John Threat.
Datalogue Raisonné (a play on "catalogue raisonné," an art-world term for a comprehensive listing of all the known artworks by an artist) is a universal, cloud-based, blockchain inventory tool that inventories the original provenance data of individual works of art. Its purpose is to facilitate inclusive documentation and expedite creative legacy planning by using artist-friendly technological innovations in image and data management.
Too often, identifying data about art objects (e.g., size, medium, year made) originate outside of the artist studio, often at the point of sale or exhibition. For artists who do not have a robust commercial support structure, a lifetime's output cannot be easily organized, and that vital information will eventually be lost. As a result, intellectual property and creative ownership can often become ambiguous.
The Datalogue Raisonné, a project of The Living Trust for the Arts (LTA), a creative community trust collectivizing legacy planning and studio management for visual artists, provides a tool for permanent record-keeping. Its original image-recognition device, currently in development, allows for the potential for cataloguing all visual output anywhere in the world.
---
Ethical Imagination
Mary Ellen Carroll (Conceptual Artist); Meredith Finkelstein (Collaborator), Technologist
E.I., or "ethical imagination," explores the space between imagination and action (i.e., ethics) by creating a blockchain of "ideas." Ideas are transformed into pieces of code, recorded as "smart contracts." This opens up new modes of collective action—for example, quadratic voting, which can register the intensity of preference.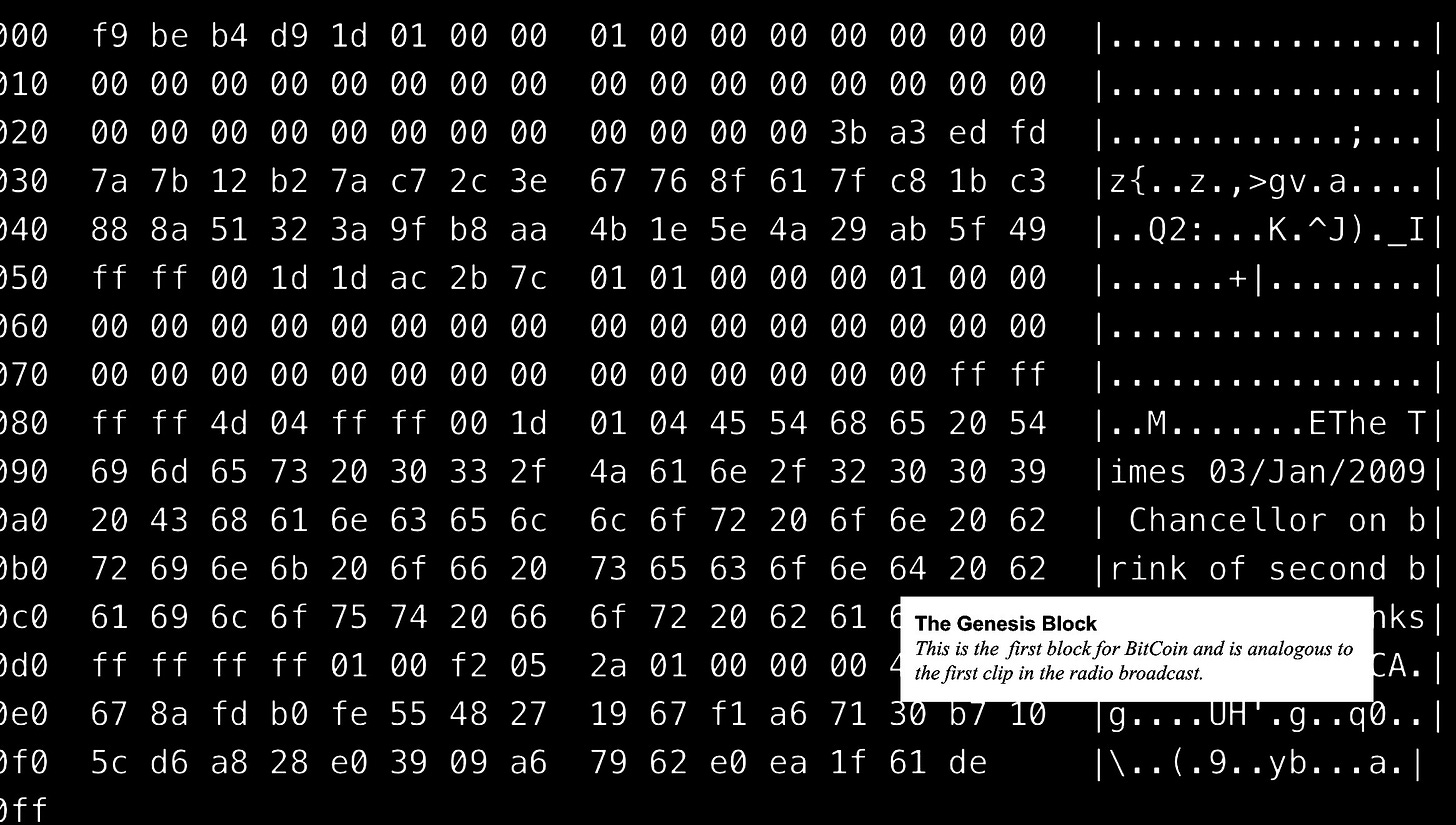 The Genesis Block – This is the first block for BitCoin and is analogous to the first clip in a radio broadcast.
The foundation of impactful and effective questioning is engaging our "Ethical Imagination" (E.I.), a term first presented as a call to action in 2015 in Nairobi by Kenyan writer and scholar Yvonne Adhiambo Owuor.
Utilizing the mechanism of blockchain, which is the record-keeping technology behind the cryptocurrency network known as Bitcoin, "E.I." will create a conceptual framework in the form of an indelible registry of ideas that can be committed to as "thinking acts." These ideas have the potential to positively change society in a radical manner—to be just, equitable, and scalable. Upon the establishment of the E.I. registry, the ideas will be voted on using a more representational method of apportioned voting (A.V.), also known as quadratic voting (Q.V.)
E.I. and A.V. will be deployed in and of themselves, as models of processes that reflect and are in themselves just and equitable systems. Ultimately the goal of this process is to address large-scale issues that seem insurmountable, such as climate change.
This process and the effects will be disseminated to the public through a website and in the form of a video/podcast titled What, the Tech?
---
On our newly launched Instagram, we are sharing such artist inspirations, projects past and present, that guide us forward, as well as 2020Visions initiatives.
For example, sign up to learn more about our upcoming conference, The New City: Navigating the Future, A How-To (Dec. 3-5, 2020).